"Best of" Recipe & Wine Pairings—April 2021
The Comfort Food and Wine Pairings seminar presented on February 21st by Ed Reyes and Sara Yeoman had a lot of us salivating and ready to comfort eat our way through several days to come. For me personally, the highlight was watching and listening to Ed describe his Chicken Pot Pie recipe. By the look on his face and the tone of his voice, I knew this one was a winner, as it's obvious that this dish is among his favorites and most soothing. For anyone who is fortunate enough to know Ed, you know he's not only one of the nicest people in the world, but an accomplished home winemaker and cook extraordinaire. He has the innate sense of taste and smell that makes the world's finest chefs stand out above the rest.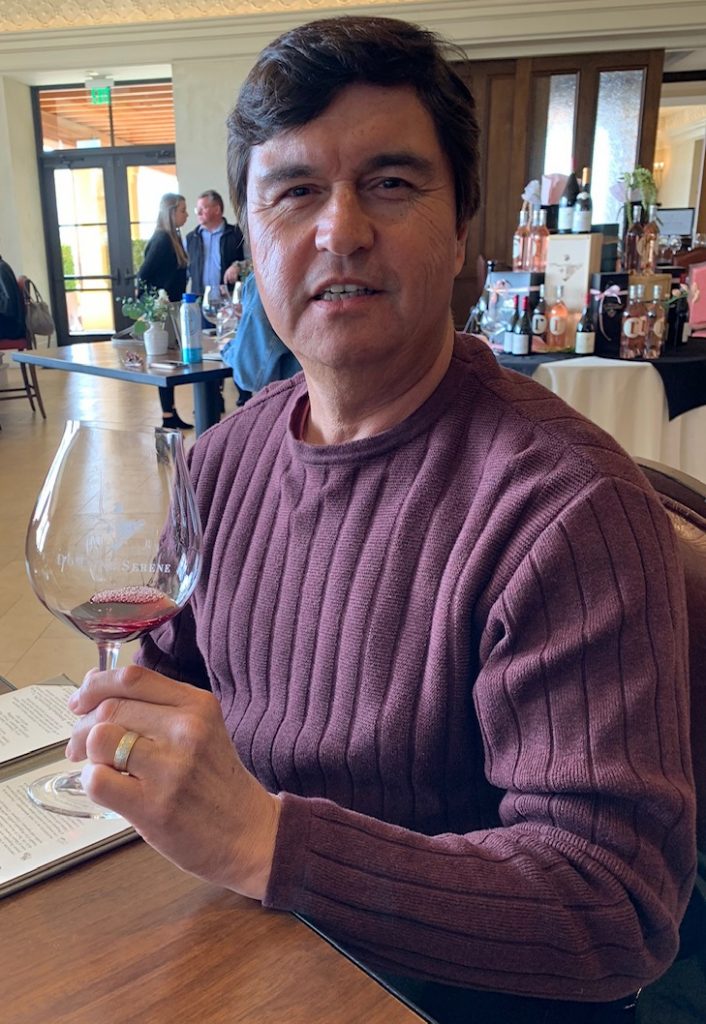 Many of us have had the pleasure of attending seminars presented by Ed on various wines and wine pairings. His understanding and explanations of what wines pair with what foods never ceases to amaze me.
For this recipe, Ed paired a Sauvignon Blanc for the herbal notes of the wine as the recipe is creamy and rich and the SB cuts through the richness. Ed further suggests a Pinot Noir, for red lovers, for the exact same reason. I'd wager that a lot of us will be trying this recipe soon. Thanks, Ed, for your willingness to always share your knowledge, love and enthusiasm for food and wine.
Chicken Pot Pie ala Ed Reyes
Makes 6 servings
6 tablespoons unsalted butter
1 large shallot, finely chopped
1 tablespoon chopped thyme
½ cup dry white wine (Sauvignon Blanc or Pinot Grigio)
½ cup all-purpose flour, plus more for dusting
3 cups low sodium chicken broth
1 cup heavy cream
1/8 teaspoon dry mustard
Kosher salt, freshly ground pepper
1 large sprig fresh rosemary
2 bay leaves
2 medium carrots (about 6 oz), peeled, chopped
1 medium russet potato, peeled, cut into ½-inch dice
4 cups coarsely chopped or shredded rotisserie chicken meat (from 1 small rotisserie chicken)
1 ½ cups frozen pearl onions, thawed
1 ½ cups frozen peas, thawed
2 teaspoons Worcestershire sauce
1 sheet puff pastry, thawed in refrigerator
1 large egg, lightly beaten
Preheat oven to 400°. Heat butter in a large skillet over medium heat. Add shallot and thyme and cook, stirring often until shallot is translucent, about 3 minutes. Add wine and continue stirring until wine is reduced by half. Add ½ cup flour and cook, whisking constantly, until mixture is pale golden, about 5 minutes.
Whisk in broth, ½ cupful at a time, incorporating completely before adding more. Whisk in cream and dry mustard. Season with salt and pepper, add rosemary sprig and bay leaves. Bring mixture to a boil, reduce heat and simmer, whisking occasionally, until thick enough to coat a spoon, about 3 minutes. Reduce heat as needed to maintain a simmer and add carrots and potatoes. Cook until vegetables are nearly tender, about 5 to 7 minutes.
Remove rosemary sprig and bay leaves. Mix in chicken, pearl onions and peas. Add Worcestershire sauce, taste and adjust salt and pepper, if needed. Transfer mixture to a shallow 2quart baking dish.
Unfold pastry and gently roll out on a lightly floured work surface just to smooth out creases and, if needed, make it large enough to fit over dish. Drape over baking dish and trim pastry so it is slightly larger than the dish (you want a little overhang). Brush with egg and make 2 or 3 slits in the pastry with a sharp knife.
Place baking dish on a rimmed baking sheet (to catch any filling that may drip over) and bake until puff pastry is golden brown, and filling is bubbling through slits, about 20–30 minutes. Reduce oven temperature to 350° and continue to bake until crust is deep golden and cooked through, 30–35 minutes longer. Let sit 10 minutes before serving.
– Fran Gitsham, Contributing Writer