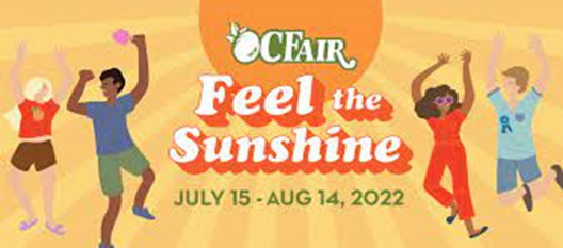 By the time you read this article, The Courtyard signups will be in full swing. THANK YOU to all of you who have signed up already to support the OCWS' biggest fundraiser of the year. The look and feel of The Courtyard will mirror last year with a bistro vibe. High-top bistro tables will be scattered around and newly added benches will be placed along two walls within The Courtyard for seating. At this time, we are very excited to be bringing back in-person seminars and the Featured Winery Program, with its own location and a new bar. We are also planning to bring back award tastings, however, if County guidelines and Fair mandates change, we will adapt accordingly.
It's the enthusiasm of you, our volunteers, which creates that great feeling no matter what restrictions are placed on us. We are requesting a minimum commitment of four shifts per volunteer. If you have not already signed up online, you can do so on the OCWS website at OCWS.org. If you have signed up and would like to add more shifts, please contact our Volunteer Scheduler, Rich Skoczylas, at Courtyardsignup@ocws.org. There are still any number of available shifts which need to be filled, and with your help, we will have another successful year! An added bonus is that with your volunteer Fair badge, you will have access to the Fair on any day, and you will have a parking pass. All Fair tickets to the public are being sold online for specific dates. There will be no walk-up ticket sales for same day entry.
If you haven't signed up already, now is the time to insure your shifts. SUPPORT THE OCWS AND HAVE FUN – VOLUNTEER TODAY!
– Fran Gitsham, Courtyard Chair