When I first joined the OCWS and discovered the Winemakers' Group, I became so intrigued with the idea of making wine. I like to cook and it seemed to me that winemaking would be like cooking. I could just follow a recipe or some kind of instruction and voila, I'd have wine.
Well, there are "recipes" and instructions for making wine just like there are recipes for meatloaf or any other kind of meal. But I soon discovered that winemaking is more than simply following a recipe or a set of instructions. There is another aspect to it. I call it the art of winemaking. It's the personal expression and creativity that each winemaker gives to his or her wine. That's the part of winemaking that really drew me in and got me hooked.
We may not be aware of that personal expression but we can taste it when we notice the differences in the many bottles of commercially made Syrah or any other varietal we enjoy. Each commercial winemaker uses specific techniques to "steer" a wine toward an outcome that he or she has in mind. That outcome could be fruit forward, an elegant style, complex flavors, a wine that pairs nicely with food, or one that is meant to be enjoyed simply on its own. That's the personal expression and creativity that goes into each wine. It's like taking that meatloaf recipe and tweaking it to make it in a style you enjoy. That same personal expression and creativity is in each bottle from our OCWS winemakers.
For many years our group has had the opportunity to get high quality grapes. Dedicated members in the group bring Cabernet Sauvignon, Merlot, Syrah and other grape varietals from faraway vineyards here to Orange County where they are distributed to other winemakers. Each person takes their grapes home where they begin the winemaking process. Usually there are many winemakers making wine from the same grapes. Right now, I have a 2021 Merlot going through oak aging. There are probably 15-20 other OCWS winemakers who got those same Merlot grapes. When the finished product is finally ready to enjoy, I'm always amazed at how different each winemaker's creation is. That's the personal expression and creativity that each winemaker puts into his or her wines. You really CAN taste it.
OCWS members have the opportunity to taste our wines at winemakers group activities. The upcoming OC Fair Home Wine Competition is another place where our wines are available to taste. When this article is published it will be about two weeks before that competition takes place. Check the OCWS website to see if volunteers are still be needed to help run it. All volunteers will get the opportunity to taste the award-winning wines after the event. It's a great way to discover what our group does and meet some of the winemakers themselves. Who knows, you just might get hooked on winemaking too.
I hope to see you at the competition. If you can't be there or if you just have questions about our Winemakers' Group, please feel free to reach out to me. You don't have to be a winemaker. You only need to enjoy wine and the camaraderie of those who have a passion for making it.
Save the Date – July Winemakers' Group Potluck
The next Winemakers' Group quarterly meeting will be on Saturday, July 9. Signups will open on the OCWS website in early June. The beach-area meeting location will be announced approximately two weeks prior to the event. Cost to attend is $5 per person to cover supplies. All OCWS members are welcome to attend.
As usual, this is a potluck event. Attendees are asked to bring a potluck item to share and a bottle of wine per person (commercial or homemade). I'm sure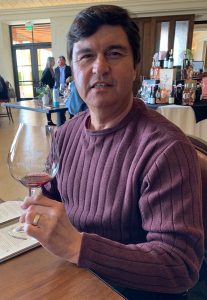 some of the award-winning wines from the Home Wine Competition will be there to taste. For non-winemakers, this is an excellent opportunity to see what our group is all about and sample some of the great wines we produce.
Winemakers, our testing team will be providing SO2 testing for your wines. Watch for an email with detailed information as the date approaches.
– Ed Reyes,  Winemakers' Group