Celebrating Success While Looking to the Future!
The Winemakers' Group took advantage of the opportunity to pour our wines at last month's OCWS Chili Cookoff. We had an enthusiastic response from many members who have never tasted our wines before. Thanks to Sam Clark, Kevin Donnelly, Jerry Guerin, and John Lane, who, along with myself, donated wines for the event. We have already been asked to pour our wines at the OCWS Spring event and look forward to again sharing our wines with the entire OCWS membership.
Our November Meeting & Potluck was held the home of Jim Kerins in Silverado Canyon. Autumn was definitely in the air on that cool, breezy Saturday. The beautiful rustic property, framed by hills and with Silverado Creek gurgling alongside, made for a lovely and relaxing afternoon. About 50 of us, including some new winemakers, enjoyed the scenery, great food and, of course, our homemade wines. Jim's property has many things to enjoy and places to explore including a teepee, a gypsy wagon, ducks and chickens, secluded gardens, and many seating areas in a beautiful natural setting. By far the most popular area we explored was Jim's wine cellar where he treated us to barrel tastings of the many wines he has "in the works". Thanks, Jim for hosting and treating us to your fabulous wines!
The Winemakers' Group Holiday Party & Potluck is coming up on Saturday, December 17, in Yorba Linda. Signups for the event are open on the OCWS website and tickets are still available. All are welcome, you don't have to be a winemaker to attend. This beautiful lakeside area will be decorated for the holidays to put us all in a festive mood. It's a great way to come together and enjoy each other's company in the spirit of the season.
On a personal note, I have been running the Winemakers Group since April. I appreciate the support and continued involvement of both Kevin Donnelly and Bill Forsch who ran the group before me. I may now be the "face" of our group but by no means does one person run the whole show.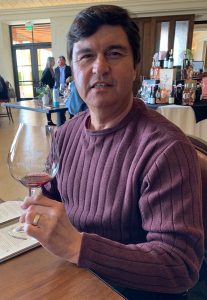 The Winemakers' Group, like the Wine Society as a whole, could not run without the help of all who have stepped up to organize and run our winemakers' activities. We are all indebted to those who have hosted our quarterly meetings, run our SO2 testing program, led the group grape, bottle and cork purchases, and organized and volunteered at the Home Wine Competition. With everyone's help, we can all look forward to continued success in 2023.
Cheers and Happy Holidays!
– Ed Reyes, for the Winemakers' Group