Celebrating Our OCWS Winemakers
Our Quarterly Meeting and Potluck was held Saturday, July 9 at the home of Robin McCormick in Laguna Beach. Over 40 winemakers and friends gathered to enjoy our wines, socialize and discuss upcoming events.
In attendance were two of the Home Wine Competition "Best of Show" winners. These Awards recognize the "best of the best," and I had the pleasure to present them to two of our very own OCWS home winemakers: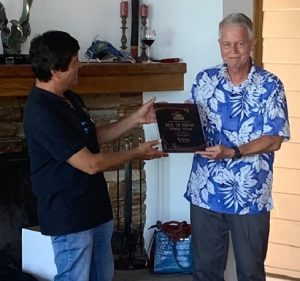 Stuart Fricke who won "Best of Show" white wine for his 2020 Gewurtztraminer.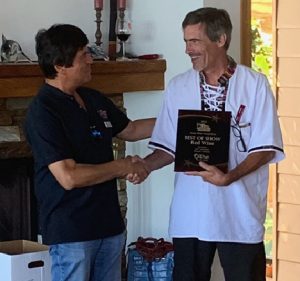 Jim Kerins who won "Best of Show" red wine for his 2021 Tempranillo.
These Awards are a huge accomplishment for Stuart and Jim.
It also speaks volumes about the level of winemaking prowess of our OCWS Winemakers' Group. The winners were among 560 entries in the recent Home Wine Competition. For our members to garner "Best of Show" Awards in two of the four categories says a lot about how skilled our winemakers are.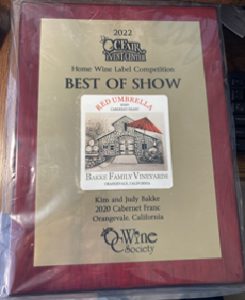 The plaques themselves are very impressive too. One new winemaker in attendance told me afterward that she wants to enter her wines into the Home Wine Competition next year in the hopes of winning one of those.
While we celebrated our accomplishments and Awards from the Competition, we started thinking about the upcoming harvest and making new wines.
Grape Purchase Update. Our next grape purchase is being planned and one of our longtime winemakers, Bruce Powers, will once again be coordinating the grape purchase.
We will be sourcing Merlot, Cabernet Sauvignon and Zinfandel grapes and fresh Chardonnay juice from our longtime source in Dry Creek Valley, Sonoma. We also have access to other varietals sourced from Lucas and Lewellan Vineyards in Santa Barbara County. OCWS winemakers have been making wine from grapes sourced from these vineyards for many years. These grapes always produce high quality wines which, through the years have garnered many awards in the Home Wine Competition.
Winemakers, be on the lookout for details on the upcoming grape purchase. For those of you who are new to winemaking and want to get started please contact me at Ed@ocws.org for more information. If working with fresh grapes seems intimidating you can also make wine from kits or frozen juice. These are available year-round and are a great way for a new winemaker to learn the craft.
– Ed Reyes, Winemakers' Group