2023 OC Fair Home Wine Competition
Calling all winemakers! Time is running out to enter your wines into this year's OC Fair Home Wine Competition. Online entries must be submitted and all wines must be received by May 26.
Don't miss the opportunity to compete for bragging rights with your fellow winemakers. Awards include Best of Show, Double Gold, Gold, Silver and Bronze. Last year, OCWS winemakers won awards in two of the four Best of Show categories. Can we do it again? You'll never know unless you enter. I entered three of mine, fingers crossed for success.
Calling all volunteers! The OC Fair Home Wine Competition is the largest home wine competition in California. It is organized by the OCWS Winemakers Group and run entirely by volunteers from the OCWS. We need your help to make it a success.
The event runs in the OC Fair Wine Courtyard, Saturday, June 10 from 7:30 a.m. to about 2 p.m. All volunteers will be treated to breakfast and lunch, courtesy of the OCWS Cooks Caucus. You also will get the opportunity to taste many of the award-winning wines after the judging is complete.
Volunteer positions include registration, stewards, data entry/scoring, food service, glass washing and cleanup. There will be a brief orientation before the competition begins to familiarize everyone with their positions. New volunteers will be paired with competition veterans.
It's a fun day and a great way to meet and mingle with your fellow OCWS members.
Sign up using the OCWS website Volunteer Form. I hope to see you there!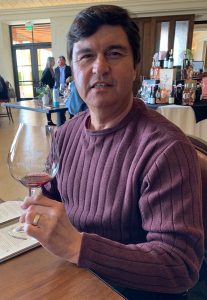 Feel free to contact me if you want to get involved in running the competition. I also will be happy to answer your questions about volunteering for the event or entering your wines. I am entering a few of my wines too (fingers crossed).
– Ed Reyes, Ed@ocws.org