Summer Wine Tasting . . . Finally!
After a year and a half of not doing a lot, my wife, Manuela, and I got on the road for a 12-day road trip along the California coastline spending time in various favored and small-scale wine spots, and at just flat out beautiful locations that make California the place to be. Before reaching our goal of a timeshare retreat in Point Arena, just south of Mendocino, we stayed in Paso Robles and San Ramon. On the return, we spent three days in the Santa Cruz area.
All told, we stopped at some 20 wineries, at least that's what the receipts say. Some of you may know that Manuela and I, and occasionally with family or friends, have spent hours enjoying the wines and the people that made them or served them at nearly every one.
What caught my attention, however, was at the very first winery we hit, I overheard a server mention to a table of guests that they had just won a gold medal "down south" for the wine he was serving. Curious, I asked him about it. Turns out they had entered our own OC Fair Commercial Wine Competition and had just received the results—a few gold medals for their efforts. The winery is Cass Winery of Paso Robles located out of town to the east. I inquired further and found out that among their medals, Cass Winery had received a double gold for its 2020 Roussanne, which was, in fact, outstanding! I was introduced to the winemaker by the name of Sterling Kragten, who told me more about the wines. I also learned that they were helping one of their young servers, Cole Stilson, and his family get started with their own wines!
I particularly liked the 2020 Viognier that had earned a silver medal. I left with a bottle of that wine and a photo for my memories.  My only regret: this was winery one on day one of our 12-day trip, and I could not purchase more for the road, but I will be back!
That's Sterling and Cole in the photo above. All told, Cass Winery received 17 medals at the OC Fair Commercial Wine Competition – four double golds that includes one best-of-class, six golds and seven silvers!  Nice work Sterling!
Day two, still in Paso before heading north, we stopped at one of my favorites, Eberle Winery. In the past, we have taken the tour of its extensive cave system where its wines are kept perfectly. I'm a fan of their reds, but the 2018 Reserve Cabernet Sauvignon was the top of the line. Our server knew it to be an award winner but was uncertain of what awards were received from various competitions. We discovered this Cab won the double gold – no surprise there. Just from OC Fair Wine Competition, Eberle Winery had earned a total of 12 medals.
Working our way up the coast, we continued to find some great wineries, including another OC Fair Wine Competition competitor and medal winner, Pear Valley Vineyards in Paso Robles.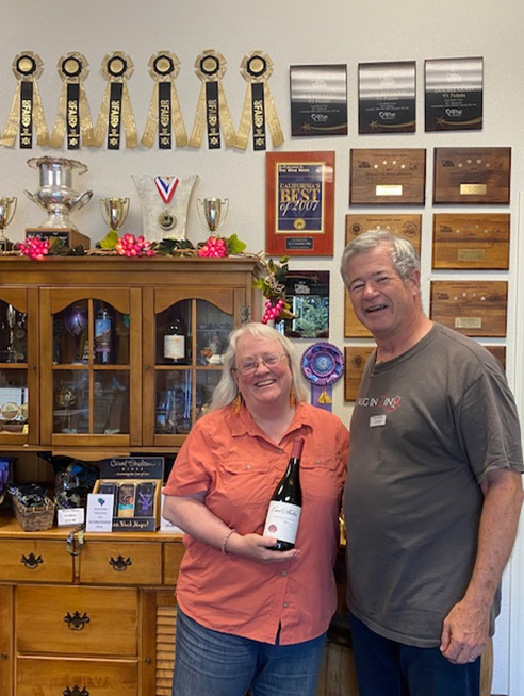 Day four, along our route up the coast, we had made it to Santa Rosa, known for excellent wines but having suffered from prior years' wildfires. Manuela found a winery that was just off our path. Carol Shelton Wines, located at the end spot of a business complex, was all charm once you walked in the door. And what did we see – two walls filled with medals and awards that Carol had received over the years at various wine competitions. Of course, I was drawn to the numerous awards she had received for her wines from the OC Fair Competition. We tasted several of these award-winning wines and got the chance to talk to Carol. Turns out, she also happens to be one of our tasting judges!
It was a great afternoon with Carol and her tasting room manager which ended with this photo of Carol and me in front of her many OC Wine Competition and other competition awards.
Four out of the first five wineries we had encountered were all successful award-winning ventures, and we had yet to reach our northernmost destination in Mendocino County!  It couldn't have been better. I will save the remainder of our fantastic wine adventure for a second article.
Here is a summary of the great California wineries that we visited that won medals at this year's OC Fair Wine Competition:
Cass Winery, Paso Robles, 17 medals, including four double golds and a best-of-class
Eberle Winery, Paso Robles, 12 medals including one double gold
Pear Valley Vineyards, Paso Robles, 11 medals including one double gold
Carol Shelton Winery, Santa Rosa, 16 medals including two double golds
Husch Vineyards, Philo, 12 medals including one double gold that was a best-of-class
Manuela and I look forward to sharing a second installment of our road trip experience which will be featured in the September issue of The Wine Press.
– Scott Harral, Contributing Writer