Recipes of the Month – Winning Recipes
Congratulations to all of the winners and a big thank you to the hosts. Please send your recipes to George Cravens at george@ocws.org for possible publication on the OCWS website.
Deborah Webber's Balsamic Roasted Tomato & Mushroom Tartines took home Chef of the Evening honors at last month's OCWS mini-tasting. Deborah, a six-year OCWS member along with husband Michael, adapted this recipe from one she found years ago in a magazine.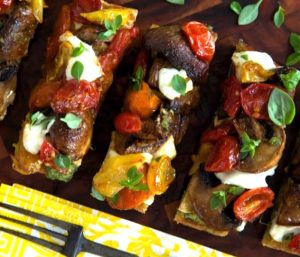 Balsamic Roasted Tomato &Mushroom Tartines
Ingredients
1 lb. multi-hued tomatoes, halved
6 Tbsp. extra virgin olive oil plus
some for brushing
2½ Tbsp. quality balsamic vinegar
1½ tsp. sugar
2 tsp. sea salt
Freshly ground black pepper
1 lb. large mushrooms, halved
Freshly ground black pepper
4 slices sourdough or rustic bread
6 Tbsp. pesto
8 oz. fresh mozzarella
Fresh basil leaves, for garnish
 Instructions
Preheat oven to 325˚F. Line 2 sheet pans with parchment paper.
SPread tomatoes out in a single layer on one of the prepared pans. Drizzle tomatoes with 3 Tbsp. olive oil and 1½ Tbsp. balsamic vinegar.
Sprinkle with 1 tsp. sugar, ½ teaspoon sea salt and a generous grind of freshly ground black pepper.
Spread mushroom halves in a single layer on the second prepared
pan. Drizzle mushrooms with 3 Tbsp. olive oil and 1 Tbsp. balsamic vinegar. Sprinkle with ½ teaspoon sugar, ½ teaspoon sea salt and a generous grind of freshly ground black pepper.
Roast tomatoes and mushrooms 60-75 minutes or until most of the liquid has disappeared. Gently stir every 15 minutes during roasting time. Mushrooms will be finished about 10-15 minutes before tomatoes.
Remove from oven when veggies are deep golden and caramelized. Set aside, but leave oven on.
Brush both sides of bread slices lightly with olive oil. Place in a sauté pan and cook over medium heat until golden on both sides. Cook in batches, if needed.
Place bread slices on a sheet pan.
Top each bread slice with 1½ Tbsp. pesto. Spread pesto to edges of bread slices. Slice or tear mozzarella into small pieces. Top pesto layer with torn mozzarella. Add tomatoes and mushrooms, dividing evenly between the tartines.
Return to oven and bake until cheese is melted, about 6-8 minutes. Scatter with fresh basil leaves and serve.
_______________________________________________________________________
New OCWS member and Chef of the Evening Magda El Zarki dazzled mini-tasting guests recently with her endive salad.
El Zarki says she got the recipe from a French friend, and that it's her go-to for summer lunches or as an appetizer for an evening meal.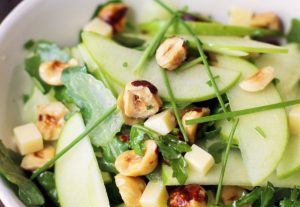 "I love its crunchiness, the slightly bitter taste of endive, with the sourness of Granny Smith apple combined with the salty rich taste of gruyere," El Zarki says. "Walnuts add some depth. The combo is a favorite of mine, also easy to prepare."
Endive & Apple Salad
Ingredients
4-5 plump endives
2 green Granny Smith apples
8 oz. aged gruyere
1 cup coarsely chopped walnuts
Vinaigrette salad dressing
(1/3-1/2 cup)
Instructions
Slice the endive into 1/3" slices, toss into a salad bowl.
Peel, core and chop the apples into bite-size pieces; add to salad bowl.
Cut the gruyere into small 1/3" cubes; add to salad bowl.
Add the chopped walnuts to the salad bowl.
Mix all the ingredients; add vinaigrette dressing and toss