In Memoriam: Richard Veague
It is with a heavy heart that we mourn the loss of Rich Veague, OCWS long-time member and home winemaker. Sadly, Rich passed away suddenly and unexpectedly on August 31 at the age of 78. Rich joined the OCWS in the early '90s and started Dark Side Winery with his partner, Bryan Skelly, in 2000. Together they consistently won medals in the OCWS Home Wine Competition, including Gold Medal and Double-Gold Medal designations in this year's competition. Rich also served as a judge and Best of Show judge for many years in the OCWS Home Wine Competition.
Rich served in the Army at White Sands Missile Range in the early '60s before being stationed on the DMZ in South Korea. He had a very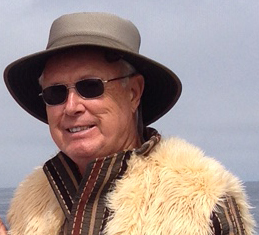 successful career in high tech that culminated with his retirement from Intel in 2002. He loved beach volleyball, cross-country skiing, golf, camping and hiking, music and attending Burning Man Festivals and UFO conferences. Rich is survived by his wife, Virginia, his brother and sister, and countless friends from around the world.
Rich's special gift was that he made friends easily, using a self-deprecating and somewhat dry humor that will be greatly missed by all who knew him.
– Bryan Skelly