A Trip Around the World Must Always Include Wine!
Part 3—Greece and Israel
As Manuela and I continue our wonderful exploration of the world, this is Part 3 of my article exploring the world of wines. In my last article, I left off with visiting Corfu, Greece. I continue now with a look at wines in the eastern Mediterranean that include Greece, Israel, Jordan, Egypt, and Turkey.
That's correct! Jordan, Egypt and Turkey.
We visited Jordan stopping in Aqaba – which is a Jordanian port within sight of both Israel and Egypt and only 20 kilometers from Saudi Arabia – and on to the historical sites of Petra. There, I rode a camel right in front of the famous Petra Treasury (see Indiana Jones and the Last Crusade). But what you really want to know is that around the archaeological digs of Petra, several recovered antiquities were determined to be wine presses – eighty-two in fact – dating back more than two thousand years, proving that wine was not a happenstance, but a product of ancient societies. And, according to our tour guide, the wine served to Jesus, most likely came from Jordan.
I did taste some Jordanian wine. I found it to very good, but also different from our Southern Californian tastes!
Egypt also has a long history of winemaking going back as far as 3rd century BC. You might think of Egypt as a desert, but the areas along the Nile are quite lush with agriculture. As we have personally seen on this trip, many products are grown in Egypt: Egyptian cotton we all know of, but also bananas. Go figure. And historians say that two thousand years ago, the Nile was much grander than today. Now, with the Aswan Dam, the Nile is more controlled. While over 90% of the Egyptian population lives in only 4% of the total land area of Egypt, efforts are in place to expand further into the deserts with more irrigation and, thus, more agriculture, essentially terraforming the desert.
As for the wines, I was impressed with what I could taste. The reds were not what we know, but the whites were clearly up there with any of the whites we all know from home and other parts of the world.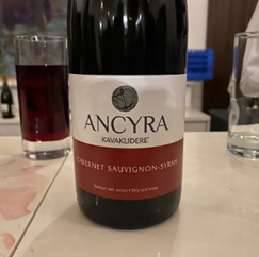 In Istanbul, Turkey, one of my very favorite cities for its polite and hospitable people, we attended a very special performance of a choir comprising extremely talented performers. These performers were Muslim, Christian and Jewish. They performed and sang songs from all three religions. It was something I won't soon forget. What was also special was the Turkish wine that was served. Excellent and worthy of note. The photo is of a bottle of the red we were served.
A specific wine tasting tour of Jordanian, Egyptian or Turkish wines was not provided on our cruise, but such was the case in southern Greece and in Israel. So let me tell you about the wines and wineries that I had the good fortune to visit.
Toward the end of March, we docked in the southern Peloponnesian region of Greece, about two hours' drive west from Athens. We took a tour of one of the 33 protected Greek wine regions (PDO) known as Nemea, which included a visit to the Skouras Winery.
Over the past twenty years, Skouras Winery has produced Peloponnesian-grown wines and has done so quite successfully. I am showing you only one photo that includes some of awards and accomplishments of the winery, but there was so much more to be seen.
As for the wines, they were excellent. We tasted two red and two white wines produced from locally grown varietals. The first was a dry white varietal known as Moscofilero. This was an excellent light wine from grapes grown in the nearby mountains at an elevation of over 2,400 feet. It had a good acidity and was refreshing. Next was Armyra (meaning salty), comprising 95% Chardonnay and 5% of a varietal called Malagousia. The story on this wine is that it was grown very near the shoreline; thus, as our host Elena Tsaka told us, there was a "salty" element that gets to the grapes. I did not find that, but the wine did not taste like a typical California Chardonnay. It was definitely a bit acidic giving it a complex aftertaste that was enjoyable.
The two reds we tried caught my attention. We started with Saint George, 100% Agiorghitiko from Nemea (yes I had to take very good notes). It also comes from the mountain vineyards. While the bottle we tasted was from 2019, according to Elena, Hercules supposedly drank this wine to enhance his strength!  Perhaps he only felt strong after drinking this wine, for It was excellent. It had a peppery finish and solid black fruit aromas. I could not get enough. This was followed by Megas Oenos meaning the grand or great wine. Elena told us it was their "big wine." At 14% ABV, this 2018 vintage comprises 80% Agiorghitiko and 20% Cabernet Sauvignon. It was described as silky yet powerful. I thought it was right up there with the Saint George.
In the end, I purchased a few bottles of the reds that I shared with some fellow passengers and crew. They were very well received. After further research, I have learned that Domain Skouras, as it is formally known, distributes to JVS Wines Import in Commerce, close to where I live. I will have to check that out when I do return to the US.
Over the next three weeks of travel is when we discovered the Jordanian and Egyptian wines. By mid-March, however, we spent a few days in Israel. And side note, I will have so many more stories to share with you about our northern African and Middle Eastern journey, just not here.
From Haifa, Israel, Manuela and I, of course, ventured out on another wine tasting opportunity. This time we went south along the incredibly green and fertile Israeli coast to a small town called Zichron Yaakov. There, we arrived at Somek Winery. Totally different from the very modern, well established Greek wine production facility of Skouras Winery, Somek Winery was created in the backyard of the home of the owners, Barak Dahan and his wife, Hila. Notice the coffee pot placed among the various equipment items! It couldn't have been a better experience.
Allow me to give you some background. For five generations, going back to 1882, the Dahan family has produced grapes in their family vineyard, all naturally irrigated by the way, selling the grapes to other local Israeli wineries. In 2003, Barak and Hila decided to produce their own wine under the name Somek, which means "blush" in Hebrew. Barak told me that of the 200 tons harvested, he keeps 35 tons for his wines. And each varietal that he uses for his wine production is harvested by hand in a single day. Needless to say, they keep the best for themselves! Sediment and lees are allowed to settle out naturally over a two- to three-month period. Barak said "it's very hard to wait." Reds are aged for one to three years in French oak, but he checks the quality personally as he does not want "carpenter wine," that is over-oaked wine.
Of the twelve varietals that they grow, Barak uses nine in his production. Somek currently produces 30,000 bottles annually. Barak only produces bone dry wines "because this is what I like." And they were excellent.
As for the wine that we tasted, there were four offered. First up was a Rosé made from Grenache. It was extremely light in color but had a great aroma and taste. Though I am not a
Rosé fan normally, this wine was exceptional. I had to get a bottle.
Next was a blend of Roussanne, Viognier and Chenin Blanc. To me it was unique with a light but mineral taste. Our first red was a 2017 Syrah. It was amazing and much like our California Syrahs. Our fourth tasting was a 2017 Carignan that I absolutely loved. Once again, I found myself buying several bottles that I could share with fellow passengers and crew.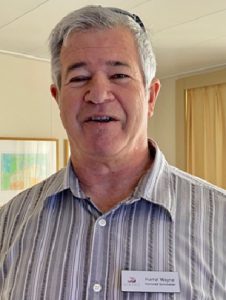 I cannot say enough about these two very special wineries. We were treated like good friends and we were treated to some phenomenal wines as well.
Our voyage continues…
– W. Scott Harral, Contributing Writer