A Trip Around the World Must Always Include Wine!
Our world cruise adventure continues. Since the beginning of March, our travels on the Viking Star have had us in or near the Mediterranean with only three stops on the European continent but mostly island hopping. Three notable islands were Sardinia of Italy, Malta and Corfu of Greece. Notable because these three islands, in the Med, produce some excellent wines.
Side note, we also experienced some wonderful Madeira, from the Portuguese Island of that name, as well as Sherry from the Spanish island of Mallorca. But you don't want to hear about that, do you? Well, maybe another time. For now, let me tell you of these wonderful island-grown wines.
Now of course, we of OCWS are very familiar with mainland Italian varietals and blends, but I cannot recall any Italian wines found in California coming from Sardinia. We docked on the southern port of Cagliari and travelled inland a bit where our tour/tasting group pulled into a winery known simply as Argiolas. This is a very large family-run winery that has its origins in the early 1900s. Antonio Argiolas, the patriarch, built it up over the years and ran it with his two sons until his passing at the age of 102. There must be truth to the belief that drinking red wine protects you from diseases and will extend your life. Today, it is run by the third generation of Argiolas, three grandchildren!
After a tour of the winery by our very friendly guide, Giulia, we were hosted by the winery to enjoy their wines along with an assortment of cheeses and breads. It was not only a great experience, but the wines were fantastic. We were offered two whites and two reds, all DOC and all made from grapes grown in the family vineyards on Sardinia.
The two whites were labelled as S'Elegas made from a local varietal known as Nuragus di Cagliari (it's a good thing I took a brochure or I would never have spelled this correctly)! Of the whites, this was my personal favorite. Manuela, on the other hand, preferred Costamolino, made from the local variety of Vermentino, a varietal that I am sure you are familiar with.
The two reds were Pedera and Cosera. Pedera was made from the Monica di Sardegna, a popular grape on the island and had a unique but excellent flavor. The Costera came from the Cannonau di Sardegna, which I learned later is the Italian name for Grenache and tasted very much like a California Grenache. It is also the most widely grown in Sardinia. Both of these were excellent, though I favored the Cannonau. These wines are available in the United States!
Our next stop was Malta. Malta has a long political history changing hands in ownership from England to Turkey. Malta gained its independence from England in 1964, but they still drive their vehicles on the wrong side, I mean the left side, of the road. Malta is located south of Sicily, the lights of which can be seen on a clear night, and it has two official languages – Maltese and English. And before I get into the winemaking, Malta is a beautiful island country that should be on your bucket list. The incredible vast limestone block structures that fortify the small cities and dominate the Old Town areas are unlike anywhere else.
Perhaps you know all this, but what was surprising to me is that Malta has a thriving local wine production.
Once again, our tour group took to the road, making a trip to the Marsovin Wine Cellars in the port city of Valletta. This winery was established in 1919 and, surprisingly, was created out of a vessel storage and repair facility located within an easy reach of the Mediterranean Sea. For over a hundred years, this winery has been owned and operated by the same family starting with the brothers Cassar. But when one of the brothers dropped out, the business stayed with Anthony Cassar, then later his son, and then on to the grandchildren. Our tour was conducted by one of those grandchildren, Stephan Cassar, who clearly knew well the history and operation of the Marsovin Wine Cellars. We were shown the sparkling winemaking process in particular. Of note, 2019 was the 100th anniversary of Marsovin and had been celebrated in style with a special vintage that was hand prepared and bottled.
After the tour of the cellars, we were than treated to a taste of some of the wines, all made from Maltese-grown grapes, coming from either the island of Malta or Gozo, largest of the other Maltese islands. There were two white varietals by names I could not repeat. But one of the reds we tried that stood out was the Ulysses Shiraz.
In the local stores and restaurants, you could find Marsovin. In fact, later, we enjoyed a glass of Marsovin's local reds while observing a traditional 4 pm canon salute from the nearby military batteries. Excellent!
A third Mediterranean island that makes very good wine is the Greek island of Corfu. Unlike Sardinia and Malta, which are quite some distance from the continental mainland, this island is right up against mainland Greece. In fact, it was within sight of the snow-covered Albanian mountain range to the east. We did not have a formal wine tour here, but the locally produced wine was everywhere. We tried a few at local cafés and found the wines to be excellent, particularly the whites. The photo above shows a store display in Corfu that presented only Corfu-grown varietals, with a few from mainland Greece. I could list some of the varietal names, but instead, I encourage you to come here – or to any of these wonderful Mediterranean locations – and discover some of remarkable regional wines on your own. Our trip continues for eight more weeks.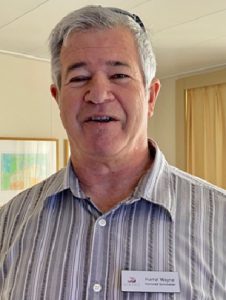 – W. Scott Harral, Contributing Writer