Wine Auction Enjoys Successful Turnout
It has been my privilege to chair the OCWS Wine Auction for the third year in a row.  Many hours of preparation went into our second largest fundraiser of the year and I would like to recognize a host of people who made the event a great success.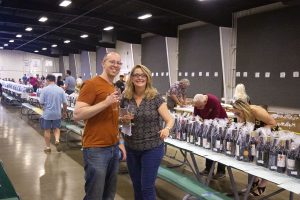 2023 COMMITEE
I can't thank my 2023 Wine Auction Committee enough for the amazing job they did this year:
Chris Bruce – Data Entry
Hank Bruce – Wine Distribution
Damian Christian – Event Food & Wine
Kevin Coy – Wine Pulling & Wine Moving
Sue England – Volunteers and Workers
Ellen Flynn – Check-in
Fran Gitsham – Verbal Auction
Scott Green — Computers
Rochelle Randel – Check-in
Janet Riordan – Check-out
Tricia Shelton – Check-out
A special thank you to Bill Redding and his dedicated team who catalogued and prepared the wines prior to the event.
BIG SPENDERS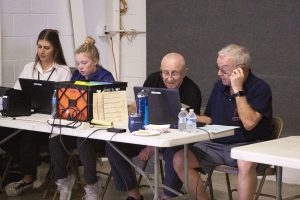 Hats off to our top 10 spenders for their generous bids that made this event successful.
Kathy & William Schymick
James & Pamela Clauss
Gloria Franklin
Will Holsinger & Lynelle Hustrulid
Mike & Cathy MacKenzie
Dorothy Pemberton
Bob & Judy Koeblitz
Lou & Shelley Cohen
George Euan
Ed Reyes & Debbie Renne
VOLUNTEERS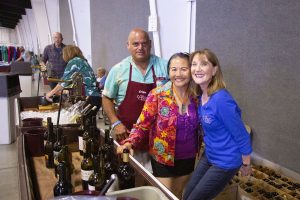 We could not do the Wine Auction without an army of volunteers. My sincerest thanks to each and every person who donated their time.This year we held a prize drawing for the volunteers. Congratulations to the following winners:
Greg Basile – Pair of tickets to ZD Tasting Program
Maleia Leiter – Pair of tickets to Jimmy Buffet Party
Lorraine Hammonds – Pair of tickets to any 2023 OC Fair Wine Seminar
Mike MacKenzie – $50 voucher to be used for future OCWS Event
Dorothy Pemberton – Wine gift basket
Tina Chan Fornadley – 1-hour massage
Monica McCarthy – 1-hour massage
Again, many thanks to everyone who made the 2023 Wine Auction a huge success.  Look for details about a new online auction to be held later this year featuring artwork, wine and wine experiences.
—Carolyn Christian, OCWS Vice President