Graber Olive House, a Valued Supporter of the OCWS
The Orange County Wine Society would like to take this opportunity to acknowledge Graber Olive House for their friendship, generosity and continued support over the years.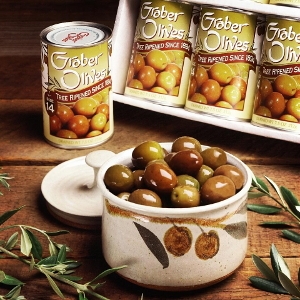 Graber Olive House has provided their specialty olives to the Commercial Wine and Home Wine Competitions for many years, and this year was no different.
As you know, palate assault can be extreme even though wine judges may expectorate every sip. The acidity in white wines and tannins in red wines can be a painful experience after a full day of tasting. A small cup of Graber olives is placed alongside each judge, and the olives neutralize the elements in both reds and whites, work wonders for the palate and taste fantastic, too.
Graber Olive House is located in quiet, serene surroundings. Visitors will be delighted to discover a bit of early California when they visit. Graber Olive House is located at 215 East Fourth Street, Ontario, CA 91764.