Wine Education 101: Get to know the Alsace Wine Region
Alsace is not one of the more famous wine regions in France, but is certainly the most unique.  Alsace is one of the most northerly wine regions in France (Champagne is furthest north) and lies in the northeast corner of France along the German border and the Rhine river.  It is a small wine region running north and south, about 75 miles long and averaging about 3 miles wide (not all under vine).
Surprisingly, Alsace, lying so far north, receives some of the lowest rainfall in France.  This is because Alsace lies in the rain-shadow effect of the Vosges Mountains, protecting it from Atlantic influences and keeping it warm and sunny.  This northerly climate along with the warm sunshine, results in ripe grapes with complex aromatics.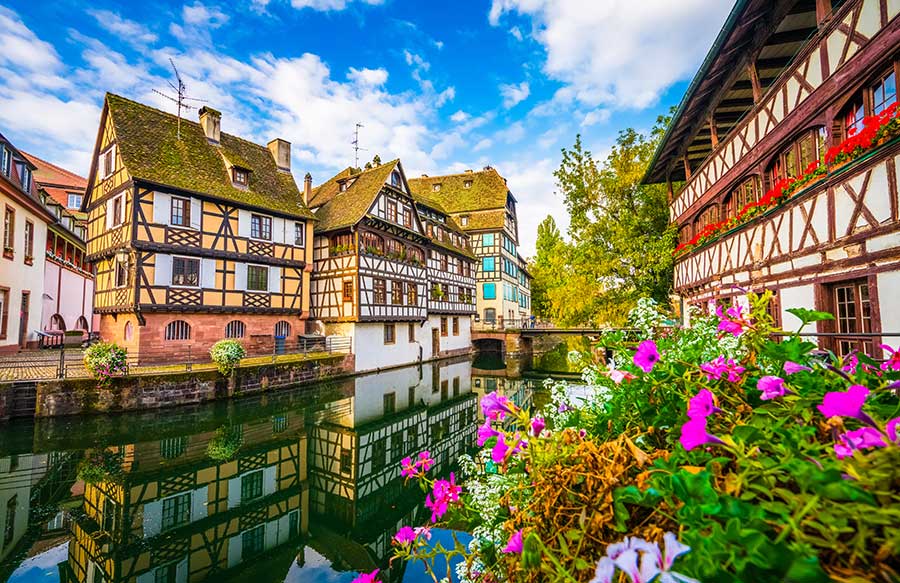 Alsace also lies along the Rhine graben, part of a long trough that zigzags across Europe with Alsace on one uplifted side and Baden, Germany on the other uplifted side.   Also unique to Alsace is that it contains 13 different major soil types, the result of ancient years of earth movement and erosion.  Some of the best soils for viticulture are found on the slopes of the Vosges Mountains.
What is most unique about this small wine region is its blend of both French and German cultures.  This amalgamation of cultures is a result of the region being forced back and forth in nationality between Germany and France.  Alsace was a German principality in mid-Renaissance, but was annexed by France at the end of the 17th century.  Alsace was reclaimed by Germany at the end of the Franco-Prussian War.  Alsace was then returned to France at the end of World War I, only to be occupied by Germany during World War II.  At the end of World War II, Alsace was once again returned to France.  The result of these transitions of allegiance was a beautiful blending of cultures, language, cuisine, and especially its wine.
Unlike other French wine regions, Alsace wines are labeled in the Germanic tradition – by grape varietal, rather than the French tradition of place.  Alsace also uses the long, tapered flute bottles as is traditional in Germany.
With its continental climate and 13 different soil types, Alsace land supports a wide diversity of grape varietals.  There are seven primary grapes of Alsace:  Riesling, Pinot Blanc, Gewurztraminer, Pinot Gris, Pinot Noir, Sylvaner, and Muscat.  Secondary grapes include:  Chardonnay (for Crémant production), Chasselas, Auxerrois Blanc, and Klevener de Heiligenstein.
Out of all these grape varietals produced, the four "Noble Grapes of Alsace" are Riesling, Gewurztraminer, Pinot Gris and Muscat.  These are the approved grapes for Alsace Grand Cru AOCs (with Sylvaner approved for one Grand Cru).  90% of wines made in Alsace are white.  While the wines of Alsace are greatly influenced by their German neighbors, they have qualities distinct to Alsace.  When most people think of these four noble grapes, they may think of sweet wines, as often in Germany.  But in Alsace, these wines are traditionally fermented dry and in stainless steel tanks or neutral barrels.  These wonderfully aromatic varietals, in combination with the northerly climate, variety of soils, and abundant sunshine in Alsace, produce wines that have bright acidity, crisp minerality, fresh fruit and floral aromas, full-bodied, with spices and richness unlike other white wines.  You may think that you are already familiar with Riesling, Gewurztraminer, Pinot Gris, and Muscat varietals – but you have not truly experienced the full character of these wines until you have tasted those from Alsace.
Alsace also produces Pinot Blanc (also known as Klevner), having perfumed and smoky notes, and Pinot Noir, which is distinctly lighter and often used in Sparkling Rosés.  You might also come across a Pinot d' Alsace which is usually a blend of Auxerrois Blanc, Pinot Blanc, Pinot Noir (vinified as white), and Pinot Gris.
Also not to be missed is the Cremant d' Alsace, the second most popular sparkling wine in France, made in the same méthode traditionnelle as Champagne.  While Alsace lies nearly as far north as Champagne, the climate is warmer and drier so that the grapes reach greater ripeness and have more round, generous flavors. Often made of crisp Pinot Blanc, Cremant d' Alsace has a creamy texture (from a minimum 9 months sur lie aging) and can have aromas of crisp apples, citrus, honey, yeasty-notes, toasted, buttered brioche and marzipan.
To top this off, Alsace makes incredibly delicious dessert wines.  Late harvest wines made of the four noble grapes, often affected by botrytis (noble rot) are labeled as "Vendanges Tardives".  These wines are sweet and honeyed, often having a full-body and high alcohol.  Another Alsatian dessert wine is the "Sélections de Grains Nobles", also a sweet, late harvest wine made of the four noble grapes.  These late harvest wines must be made from botrytis-affected grapes and are hand-picked, berry by berry, through multiple passes in the vineyard.
This small region of Alsace, certainly not the most famous wine region in France, offers up a bounty of wine experiences as full and diverse as their rich culture.  Taste these Alsatian wines and your senses will be delighted by the fresh fruit and floral aromas, accompanied by perfumed richness and exotic spices. With warm weather approaching, these crisp refreshing wines from Alsace should surely be on your summer wine list.
Irene Scott, WSET-3 – Wine Education Chair
Refererences:
Wine Scholar Guild, French Wine Scholar Study Manual, 6th edition, ISBN 978-1-4835-8560-4
Robinsons, Janice.  "Alsace".  https://www.jancisrobinson.com/learn/wine-regions/france/alsace
Wine Folly, "Alsace Wine Region: A Manual for Oenophiles", Sept 12, 2019. https://winefolly.com/deep-dive/alsace-wine-region/