Spotlighting a OCWS Winemaker: Ed Szubielski
Ed Szubielski began making wine 13 years ago. It was the following year that Ed decided to join the OCWS Winemakers' Group to improve his craft – and improve he did!
Being a wine collector since the 1980s, Ed decided to grow grapes in his own backyard. Ed was always determined to make the best wines and sought out the best fruit. It was in Ed's very own backyard where members of the Winemakers' Group met Chris Van Alyea of Solterra Winery in Encinitas. To this day, the Winemakers' Group buys Dry Creek Merlot, Chardonnay, and Alexander Valley Cabernet grapes from Chris.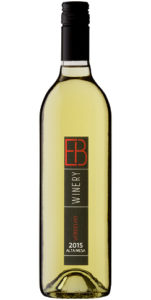 Ed's "Eddie's Backyard" label kept winning awards at the OC Fair Home Wine Competition. He was encouraged to enter the largest amateur winemaking competition in the U.S., an event annually held by Winemaker Magazine.
In 2009, Ed won the "Grand Champion" award with a 2007 Syrah from White Hawk Vineyards in Santa Barbara for best amateur wine in the US. His Syrah was selected No. 1 out of 4,474 entries. Pretty impressive! When Ed arrived at the next Winemakers' Group meeting, he was greeted with We are the Champions by Queen. But if that were not enough, Ed won Best of Class in the 2013 National Competition for his 2011 Pinot Noir. That's best Pinot in one year in the US and Best Wine in another year.
After retiring from a successful career as an executive in the automobile parts industry, Ed followed the path of several OCWS winemakers: Doffo, Roadrunner Ridge, Filsinger, Boorman and many others, and decided to "go commercial." The colorful, amateur "Eddie's Backyard" label is now an elegant "EB Winery" label in black.
Ed's wines are available for tasting and purchase at his new store, We Olive & Wine Bar, located in San Juan Capistrano directly across from the entrance to the San Juan Capistrano Mission, or online at EBwinery.com. Eight EB Winery wines are on the tasting menu at We Olive, as well as hard to find domestic artisan wines.
It has been an exciting journey for Ed over the years, and we are quite confident that Ed will continue to produce excellent wines!
– Kevin Donnelly