Committed to Quality By Greg Risling
Tucked in a business park off Alicia Parkway in Mission Viejo, Chuck and Sheri Bellante have established one of the most reputable and welcoming wineries in Orange County.
While it still may stun some residents that they can visit a top-flight winery just a few miles from their home,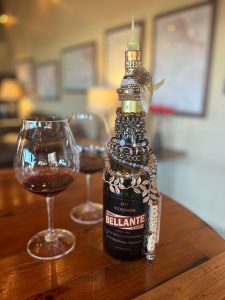 Bellante Family Winery has made a name for itself by producing a stupendous slate of age-worthy, single-vineyard wines that has netted 90+ scores for roughly 85 percent of their offerings.
"Watching wines develop over time is part of the satisfaction of making wine," says proprietor Chuck Bellante. "They are like my newborn children. I can't pick a favorite."
Chuck has spent nearly the last quarter century making wine. Once a garagiste who partnered with others to explore the world of wine, he and Sheri decided to open a tasting room in 2017 as a way to move into retirement doing something they love.
The retired chemical engineer credits his job for his meticulous approach. He knew he wanted his grapes to come from Santa Barbara County that has east-west coastal mountains that form valleys and balance the climate to help nurture the fruit to its maximum potential.
"It's kind of intuitive; I let the fruit talk to me," Chuck says. "I have the science background to do what needs to be done. I taste it as it matures to see what more needs to be done."
He also wanted to provide his clients solely with single vineyard varietals, giving them the opportunity to experience the terroir and the nuances of that particular location.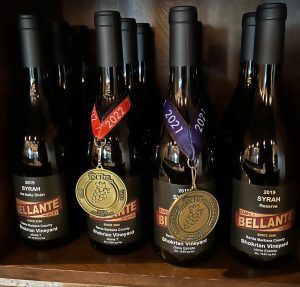 Chuck prides his wine being single vineyard and racking up top scores by the likes of Wine Enthusiast. His wines have consistently medaled at the OC Fair Commercial Wine Competition.
"Scores mean you are meeting a standard. You might not like the wine but it's good from a technical standpoint," he said.
His first vintage – circa 2000 – was a Syrah he calls "bullet-proof" because of the grape's thick skin. Since then, Chuck has expanded his collection to Pinot Noir, Viognier, Grenache and Mourvedre.
As most wine aficionados know, making the very best wine is a blend of science and art. Chuck recounted a story during harvest one year when a fellow winemaker questioned why he hadn't picked his fruit and was the last in the area to do so. Clearly, Chuck recalls, the winemaker thought it was too late and the end result would suffer. Waiting did just the opposite.
"I like to pick the fruit later. I'm not trying to be hip or cool," Chuck said. "I just know what I'm trying to achieve. If everything tastes right, it's time to pick."
The winery also offers some unique options and events. First and foremost is their wine club where prospective members actually get to taste the wine before choosing which ones will be part of their allocation. Every month, the Bellantes host a tasting for the older library wines, giving clients the opportunity to sample the crème de la crème.
The winery claims to have the original wine bingo in Orange County. If you don't have any plans on Halloween, there will be a murder mystery soiree for those novice sleuths. And a few days after Thanksgiving, the winery will host an exquisite lineup of delicious offerings by renowned chef Pascal Olhats.
All in all, Chuck and Sheri are enjoying the fruits of their labor and hope others have the opportunity to swing by and taste some hand-crafted, world-class wines from Santa Barbara County right here in Orange County.
"It's about making a quality wine," Chuck says. "The people who appreciate that – they are my kind of people."