OC Fair Commercial Wine Competition
June 4, 2022

-

June 6, 2022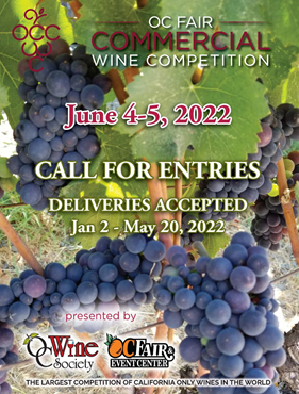 The 46th OC Fair Commercial Wine Competition will be held June 4-5th at the Hilton Hotel in Costa Mesa.
The Orange County Wine Society and the OC Fair and Event Center sponsor the Competition which judges wines made only from grapes grown in California. There are no entry fees and the wines are judged by professional winemakers or winery principals. The wines are cataloged by varietal, price and sugar levels. In 2021, over 2400 wines were entered.
The wines will be available to purchase by the glass at the OC Fair in the Courtyard staffed by OCWS volunteers. This year's Fair, "Feel the Sunshine", begins Friday July 15th and runs through August 16th.
For more information on the 2022 Competition, contact info@winecompetition.com
Thank you to the Orange County Fair Board and Staff, the Judges and Volunteers for their participation in this year's event.
OC Fair Commercial Wine Competition
88 Fair Drive
Costa Mesa, Ca 92626
714-708-1636