The Courtyard is the center of many of our events throughout the year.  Most importantly, it is the location where we sell tastes of the OC Fair award winning wines.  As well as, full glasses of wine, champagne and other merchandise to OC Fair participants.  Also we offer educational wine related seminars during the the OC Fair.  
The Courtyard Sign-Ups
We know the OC Fair seems a long way off, but the scheduling process is about to begin. With over 300 shifts to be filled, scheduling takes some time.
This year we are going to be doing it a little different. By invitation only, managers will again be given the first opportunity to sign up beginning April 1. On April 15, stewards and cashiers will be invited to request their shifts. Managers, stewards and cashiers will receive an email notification. On May 1, online sign-up for server shifts will open. Shifts are generally filled on a first-come basis, so if you have favorite shifts, it is best to sign up early. All volunteers will be issued an OC Fair pass that is good on any day of the Fair and an off-site parking permit with shuttle transportation to and from Gate 4.
You may sign up for as many shifts as you like, but you must sign-up for a minimum of three shifts.
Alcohol Server Training (TIPS) for The Courtyard
For those who are working The Courtyard for the first time, you are required by the OC Fair to be TIPS certified. The OCWS provides free classes (normally $40). For returning volunteers, your certification is good for three years. When you sign up, you will be notified if you need to re-certify. TIPS certification classes are held on the grounds of the OC Fair & Event Center in the evenings and on weekends.
When volunteering at The Courtyard please remember the No. 1 Rule – have fun!
– Fran Gitsham & Brian McDonald, Event Chairs
We also hold our annual BBQ and October parties here.  The map below can be helpful in finding the Courtyard location on the OC Fairgrounds.  Please note the location of our office between the Pacific Amphitheatre and the Courtyard.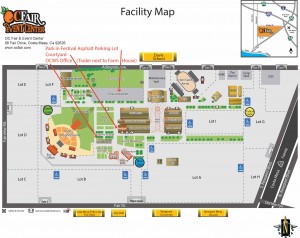 There are no upcoming events at this time.