The 2017 OC Fair is fast approaching, and The Wine Society is geared up to proceed with its most important fundraising effort of the year, The Courtyard. The Fair will be open Wednesdays through Sundays, beginning on Friday, July 14 and concluding on Sunday, August 13. This year's Fair theme is "Farm Fresh Fun."
In exchange for running the OC Fair Wine Competitions (Commercial and Home Wine), the Orange County Fair and Events Center affords us the opportunity to manage The Courtyard and realize the income derived from it. The income received from The Courtyard directly funds both wine competitions, provides funds for our Scholarship Program as well as annual office expenditures. It is of the utmost importance to The Wine Society that The Courtyard be a huge success!
Whether you are a new volunteer or a veteran at The Courtyard, this is your opportunity to support the fundraising efforts of The Wine Society.
In addition to hosting The Courtyard at the Fair, some of the most knowledgeable and experienced OCWS members will be conducting wine seminars on Saturdays and Sundays. Check out the seminar schedule on the OCWS website and come learn something new about wines and wine pairings that you may not know you don't already know.
WINE SEMINARS
Presented by some of our most wine knowledgeable OCWS members, Wine Seminars will be held on Saturday and Sunday afternoons at The Courtyard throughout the run of the Fair. A schedule will be posted on the OCWS website for members and the general public to purchase tickets.
TIPS TRAINING
As a concessionaire, the OCWS must adhere to contractual requirements established by the OC Fair & Event Center.  One of the requirements is that our volunteers, in order to serve wine, must be professionally trained and certified in alcohol awareness techniques.  New OCWS members and members who completed TIPS training in 2014 are required to certify this year. The certification is valid for three years. Click on the link for Information on TIPS training sessions. If you have any questions, please contact Marcy or George Ott at 714.235.6459 or email TIPS@ocws.org.
Additional Requirement: New trainees will need to have their photos taken by the OC Fair following TIPS certification. All volunteers will be screened, as required by the Fair authority, through the Megan's Law database. All volunteers are required to sign a Server Responsibility Statement. More information on this topic is covered in a subsequent article in this edition of the newsletter.
VOLUNTEER SIGN-UPS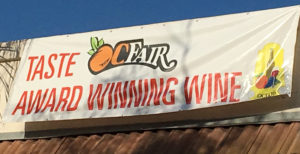 The Courtyard volunteer sign-up form is available for signups. Sign-up is online only. Please take the time to sign up as soon as possible and, please remember to indicate parking needs, whether one pass is needed per individual or just one per membership.
There are four jobs to be worked at the Courtyard:
Servers: Volunteers who pour and sell wine to the public
Stewards: Experienced volunteers who select wine for pouring and restock as needed
Cashiers: Experienced volunteers who handle money, record sales on cash registers and process credit cards
Credit Card Processors: Volunteers who assist cashiers in processing credit cards during the busy, pre-concert 4:00 pm -8:00 pm shift
All shifts are noted on the online sign-up form and all schedules are the same as last year, with the exception of the opening weekend shifts. The OC Fair will be now be opening at 11:00 am (versus 10:00 am previously) on Saturdays and Sundays; hence the opening shift will begin one hour later than previous years. Members are requested to work a minimum of 3 shifts during the run of the Fair. Typically, the morning weekend shifts fill up fast. The hard to fill shifts are Wednesday, Thursday, Saturday and Sunday nights. We urge you to please consider signing up for one or more of these shifts, if at all possible.
The deadline to sign-up online is June 15 and, although every effort will be made to assign shifts and duties as requested, spaces will be filled on a "first come, first served" basis. Please note that you can sign up for shifts prior to being TIPS certified; however, you MUST be certified prior to working at the Fair. Your final assignments will be confirmed in the early part of July via U.S. mail. This mailing will also include your photo ID badge and parking pass(es), along with a parking map.
New Member Orientation
Two sessions, to be held in early July, are being planned for new members to be trained on how the OCWS serves wine at The Courtyard and for experienced volunteers who are interested in learning and performing other functions such as cashiering, credit card processing and stewarding. The training session dates will be posted on the OCWS website shortly.
If you have any questions, please contact the Courtyard Executive Committee via email at Courtyard@ocws.org. Looking forward to seeing you at the Fair!
– The Courtyard Committee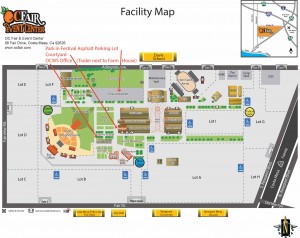 July 15 @ 12:00 am
-
5:00 pm