The Courtyard is the center of many of our events throughout the year.  Most importantly, it is the location where we sell tastes of the OC Fair award winning wines.  As well as, full glasses of wine, champagne and other merchandise to OC Fair participants.  Also we offer educational wine related seminars during the the OC Fair.  
We also hold our annual BBQ and October parties here.  The map below can be helpful in finding the Courtyard location on the OC Fairgrounds.  Please note the location of our office between the Pacific Amphitheater and the Courtyard.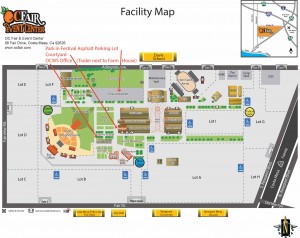 There are no upcoming events at this time.