Carolyn Christian
Declaration of Candidacy
My name is Carolyn Christian, and I am proud to submit my candidacy once again for the Orange County Wine Society Board of Directors. I bring to the table many years of experience with nonprofit management and human resources. In addition to my profound respect for the Orange County Wine Society's history and traditions, I have a strong commitment to ensuring that the organization endures and stays relevant and successful for decades to come.
I joined the Orange County Wine Society in 1986, while I was studying Cultural Anthropology. Over the last several decades, I have served on the OCWS board of directors for four separate terms (12 years total). In addition, I have served on four other nonprofit boards in various capacities including President, Vice President, Secretary, Education, and Membership. During my time on the OCWS board, I served as Secretary and Vice President several times, and chaired many events including the Wine Auction, Wine Classic, Wine Extraordinaire, Membership BBQ, Scholarship Committee, Holiday Dinner and Dance, Dine with Wine Program, and many more. In addition to currently serving on the board as your Vice President, I volunteer for various events, work at the OC Fair, and give educational seminars in the Wine Courtyard.
Professionally, I have worked in Human Resources for over 20 years and prior to that taught at several colleges and conducted research. My focus has included educational development, data systems, and website administration. I recently completed a master's in human resources from a prestigious business school in order to become a better strategic partner in the corporate world. I passionately believe that we are all students of life and should continually learn from the world around us.
My interest in wine began during my years at Fresno State University. Over the years I have worked for several wineries and nonprofit wine organizations. The work that OCWS does is especially important, and I hope that serving on the board again will give me an opportunity to help continue its legacy. As a cultural anthropologist and HR professional, I have been able to assist various organizations better serve their changing membership base and ensure sustainability.
I am very excited about the possibility of once again serving on the OCWS Board of Directors. Although I have been a member for several decades, those who know me know that I am young at heart and always looking for ways to improve things around me. As the OCWS approaches its 50th Anniversary, I hope by serving on the board again, I can help to celebrate the legacy of the OCWS and its greatest asset (its members), while ensuring that we continue to build a resilient organization.
I welcome your questions and feedback at carolyn@ocws.org. Thank you for your consideration and your vote.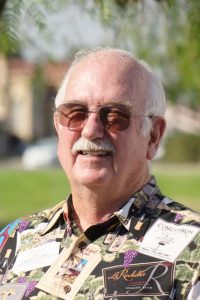 Fred Heinecke
Hello fellow Orange County Wine Society members. My name is Fred Heinecke.  Let me take a few words to re-introduce myself and tell you why I am a candidate for reelection to the Board of Directors.
Three years ago, when I first sought election to the Board of Directors, we were in the grips of COVID-19. The road through COVID was difficult for everyone, including the OCWS. One fair year was completely lost; the next year was highly modified to finally have a safe gathering of wine lovers. I believe the OCWS Board of Directors led the society through the pandemic and guarded the operating funds to see our society thriving today.
In my first candidate's statement I spoke about the Courtyard and how I enjoyed working there.  After a year's absence the Courtyard returned and this year, along with President Fran Gitsham, I am chairing the Courtyard Committee. Although the summer is not yet complete, everything points to another successful year. If you have worked at the Courtyard, our organization's largest fundraiser, you have probably seen me there. Believe me it is always great fun!
I believe that the most important part of any organization is its people.  In the OCWS's case it is you, the member.  The OCWS has been able to sustain its membership level of about 1,000 over some tough times.  The Courtyard is the largest single membership driver. That is the key to keeping a vibrant, growing organization.
I ask for your vote to be reelected to the Board of Directors and hope to see you at a wine dinner, a holiday event, the commercial competition or, best of all, the Courtyard.
Thank you for your consideration.